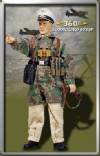 Figure
Fallschirmjager
Montecassino
Fallschirmjager Officer
WWII
21st Century Toys CP22380
This WWII era soldier comes dressed in Mediterranean shirt, trousers, 2nd pattern jump smock, Luftwaffe tropical officer cap, jump boots, and M35 Para helmet with sand paint. He is also equipped with light utility Y straps, water bottle, bread bag, mess tin, MP-40 3 cell with tool, German map case, tan binoculars, P-38 pistol with holster, pipe, Beretta 38/42 Sub machine gun, wound badge, and two shoulder boards. All of this comes in a collectible 5-panel box. Recommended for ages 5 and up.
The Battle of Monte Cassino, one of the many battles that were fought between Allied and German forces on Italian soil, is an awesome example of the ferocity of war. Control of hills, valleys, river crossings, along with town outskirts and centers changed back and forth between the Allies and the Germans as the battles raged in the winter of 1944. In January 1944, Allied forces landed at Anzio in central Italy. An attack was mounted against the town and abbey of Monte Cassino in an attempt to draw away German troops from the Anzio beachhead and then to move towards Rome. The costly campaign lasted several months. Multi- national Allied forces clashed with fearsome Fallschirmjäger (paratroop forces) of the German Army. Living and fighting in the worst possible conditions, the Fallschirmjäger forces through their tenacity, gained the respect of the Allied armies. The Allied advance was continuously halted. This realistic 12-inch action figure represents a German Fallschirmjäger (paratrooper), as he would have appeared at the fierce, bloody Battle of Monte Cassino in the winter of 1944. Fully posable, with removable battle fatigues, he carries an officer's complete equipment, including binoculars with case, both a helmet and a white dress cap, rifle with removable magazine, pistol with holster, and more. A nice touch: he even gets a briar pipe to clench in that formidable jaw.
55,00