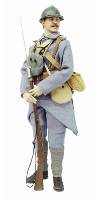 Bayonets and Barbed Wire
French Army
Europe
French Rifleman / Allied Powers
1916
Sideshow 4103R

This 12" figure has over 20 points of articulation and features the authentic look of a WW1 French Rifleman. It comes with an historically accurate uniform. Also comes with an Adrian helmet, Single breasted great coat, Tunic Dickie, Breeches with infantry stripe, Puttees, Boots, Leather Y strap and waist belt, cartridge boxes, haversacks, 2-liter canteen, bayonet frog and scabbard, M-2 gas mask and bag, Large wirecutters, 1886 Epee bayonet and 1907 Berthier Rifle.
140,00